Web Solutions
Business Websites and Marketing
At Ace Business we offer a wide range of solutions for your online presence. We can assist with many aspects including web design, web development, search engine optimisation, advertising and social marketing campaigns.
Website creation that works for your business
These days it's not just an option to have a website, it is a necessity. A high quality website will not only show your clients and potential clients what you do, but also helps establish trust between your business and your potential clients. But not every website is the same.
At Ace Business, we have over 13 years of experience in building web sites, so you know you are getting a high quality service. Also trading under the name of Ace Web Design we have helped many Adelaide businesses reach their potential by creating a high quality website that is targeted to their needs.

Web Development
From simple website builds, ecommerce websites to custom web applications to streamline your business. We have great experience that can help your business.

Online Marketing
From Google Ads to Facebook Marketing we have you covered with a wide range of online marketing services.
Web Hosting
One area that is often overlooked is high quality web hosting. If your website doesn't load quickly then you lose customers.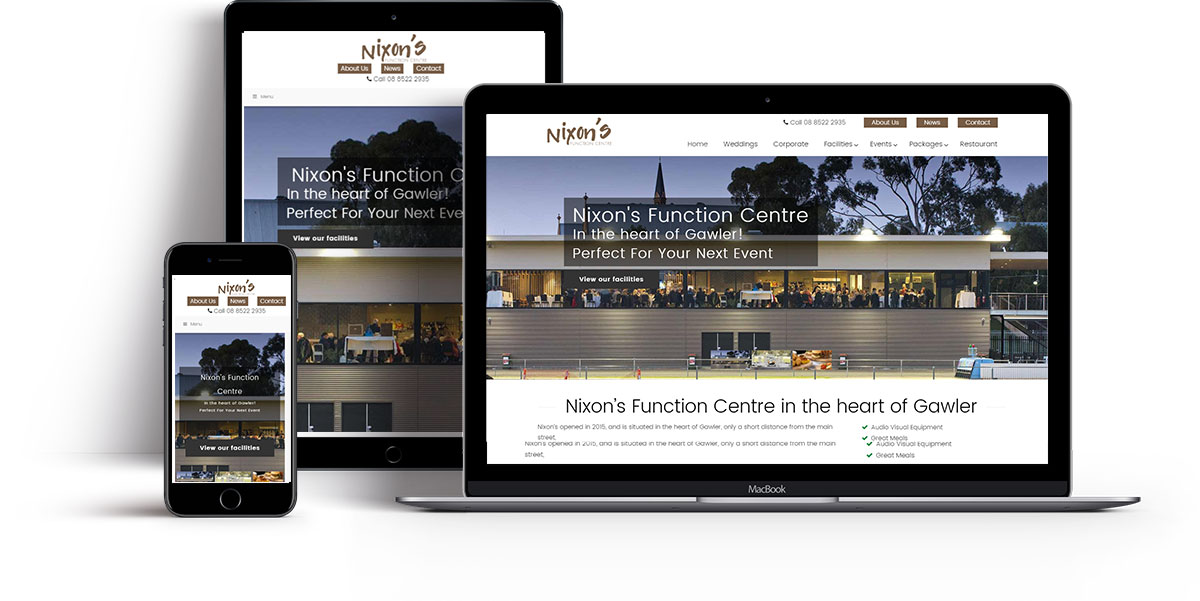 Responsive Websites to suit all screen sizes
In modern times it is highly important that all websites will be compatible with not only desktop computers but also tablets and mobile phones. This is known as website responsiveness and is at the forefront of every website design that we work on.

WordPress + Divi = Amazing Websites
We love to use the combination of both WordPress and Divi theme. Using both of these hand in hand allows us to have a large degree of flexibility. With a drag and drop builder it makes managing a WordPress website quick and easy after setup.
Some of our work
We've done a broad range of websites for a number of clients over the years. Some great South Australian brands are included in our portfolio.
[et_pb_slick autoplay="on" _builder_version="4.0.4″ _i="0″ _address="4.0.1.0″ /]
What Technology do we use?
WordPress website development
WordPress is the most common website platform builder in the world. We love WordPress because it is easy for us to customise, and is useful for allowing clients to edit their own websites after completion.
Laravel Custom Web Applications
Not every project is a simple website that suits most customers needs. Sometimes we need to do some serious custom coding and this is where we love using Laravel. Laravel is a very popular php framework which works beautifully with Vuejs, a fast working Javascript language which is perfect for user interfaces.
Frequently Asked Questions
HOW MUCH WILL A NEW WEBSITE COST?
It can vary quite a lot from website to website. We have done some for as low as $1,200 and then have done quite a few in the $10,000's. The complexity of the project is what varies the end cost.
What is involved in online marketing
Online marketing comes in many forms. From blog posting, social marketing, Google Ads, Social Posting, Social Advertising, Search Engine Optimisation to content marketing, there is so many different areas where online marketing can occur. We can help with moving your business in the right direction for a successful online marketing campaign.
When you build my website will i be ranked #1 in google?
This is not how search engine rankings work unfortunately. Many years ago it was possible to easily get high website rankings whenever you built a website and put some keywords on the page. These days everyone is competing for the same search engine rankings, and therefore a much more concentrated Search Engine Optimisation (SEO) campaign is required to get high rankings.
I'm not located in adelaide, can you still help me?
Of course we can. In 2023it is possible to work anywhere in the world, and we can communicate in many ways. If you want a face to face meeting we can either organise something in house, or at your office, or if it is more suitable then a Zoom meeting might be more appropriate.