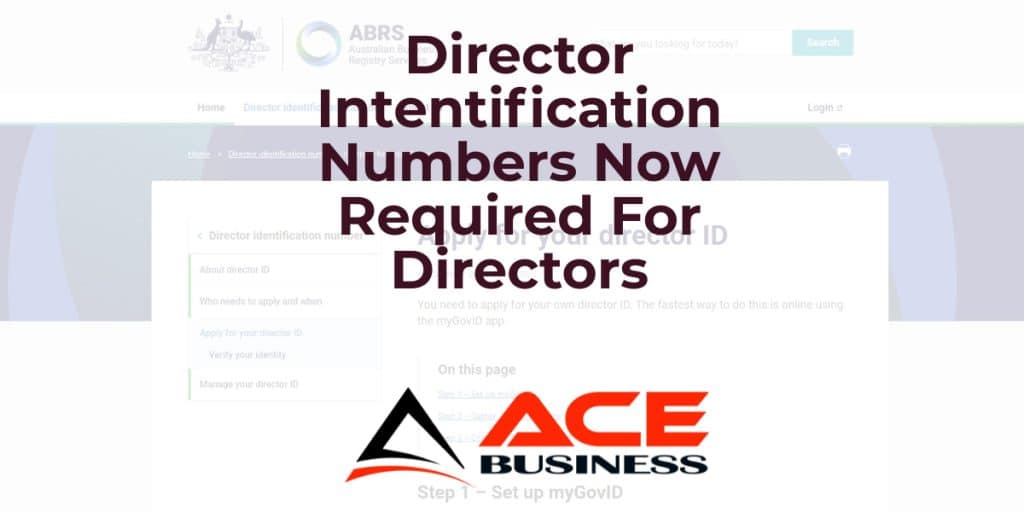 ASIC has now implemented a new Director ID system. Company directors need to verify their identity as part of a new director identification number (director ID) requirement. A director ID is a unique identifier that a director will apply for once and keep forever – intended to help prevent the use of false or fraudulent director identities. All directors of a company, registered Australian body, registered foreign company or Aboriginal and Torres Strait Islander corporation will need a director ID.
Existing Directors have until 30th November 2022 to apply.
New Directors appointed between 1st November 2021 and 4th April 2022 must apply within 28 days of their appointment.
After 5th April 2022, intending directors must apply before being appointed.
To apply for a director ID you will need to go to the following link at the Australian Business Registry Services:
https://www.abrs.gov.au/director-identification-number/apply-director-identification-number
Use the above link to start the process.
Once you have the MyGov ID, the process takes about 5 minutes
It does require
your personal tax file number, and
your country and town of birth
to be input as part of the process
If you are already in our system, and we have your company details on file, we should have all the necessary detail for you, should you need them.