During the second week of November Bec, David and Paul headed over to Melbourne to attend the Account Tech Live 2019 conference, and took the opportunity to meet up with some of our clients, and also make some solid connections to assist us in assisting our clients in the future.
The trip turned out to be very worthwhile with the meetings with clients being very beneficial and the conference itself giving us some valuable information about accounting, bookkeeping and digital solutions and processes.
Our goal at Ace Business is to ensure that we are always ahead of the curve so we can offer our valuable clients the best solutions that are currently available, along with knowing the upcoming features in the various accounting software. Having a broad knowledge of any add on apps also allows us to recommend the best solution for businesses based on their needs and bottle necks.
Account Tech Live 2019
Taking a look through the program we worked out which break outs and round tables we would attend and over the course of the two days we found that collectively we had attended a broad range of topics on Cloud Accounting Software, Apps and Add Ons, Security, Productivity, Marketing, Firm processes and general well being.
Some of the highlights from the breakouts that I attended included included:
Inside the tech stack of a cloud-focused, multi discipline firm – This presentation showed a variety of different apps that can be used within Accounting firms to increase productivity and client success.
Cyber Security and your accounting firm – This outlined some of the current scams that were occurring in the industry and in general.
Office 365 How it can be the 'App Stack' for your firm – This gave a very interesting insight into the apps inside Office 365 that are often overlooked. This was particularly interesting.
Client Satisfaction – This outlined measures that could be taken to make sure that our clients are happy, and what areas are important to focus on.
Onboarding new tech – This was a Q&A that was hosted by Receipt Bank, and outlined the keys to successfully onboarding clients to new apps and technology within their businesses.
Open Banking – Presented by Stephen from My Prosperity this presentation gave some great information about what is happening with Open Banking, and what to expect in the upcoming years with Open Banking.
Round Tables were particularly interesting and was a great opportunity to talk strategically with a wide range of like minded people:
Leveraging Linkedin for Leads – Run by Trent Butler this very informative session regarding using Linkedin for finding leads for businesses. This really opened my eyes about what is possible with Linkedin.
SEO 101 – A session run by William Zhang from Intuit that explained the basics of SEO. I helped out where I could here and had a good chat with William afterwards.
Squeeze more time with productivity hacks – Got some handy tips here to make the use of my time better, and some we may implement throughout the firm as time goes on.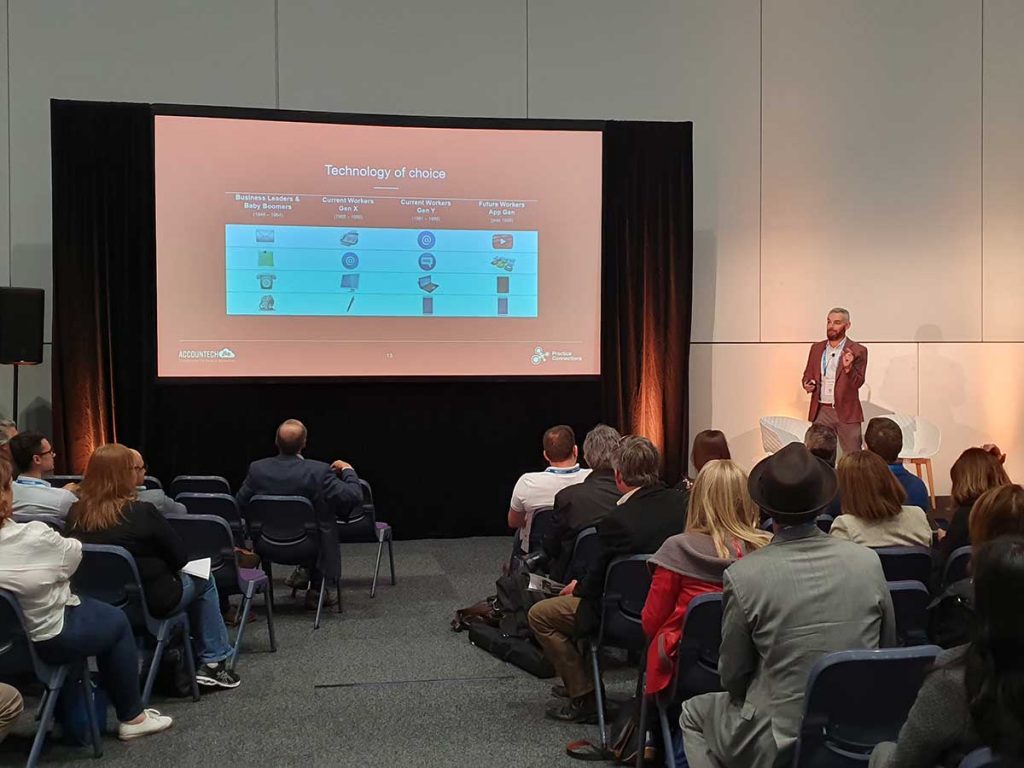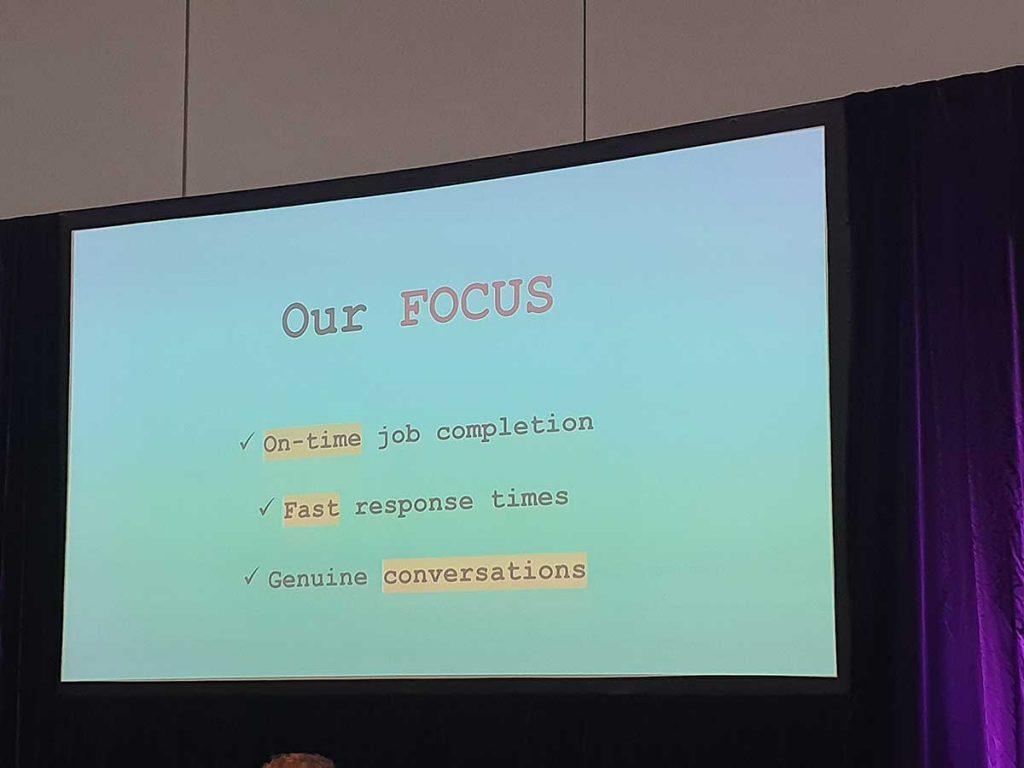 Networking
As usual we always love the networking aspect of these types of conferences. The relationships that we develop with people and businesses are valuable for everyone involved, and often results in us being able to serve our clients much better. We were happy to meet up with our friends Adam and Rachel from Fairway Group in Melbourne who we met at Receipt Bank Exchange. We shared a lovely lunch at one of the local restaurants during the first day. We also discussed some great strategies with Amar from Latif Accounting in Sydney whose excellence in customer satisfaction gave us a lot to look forward to offering for our clients in the near future.
During the first night we went for drinks at the Melbourne public and chatted to many of the speakers and vendors over a few glasses of wine. This was a great opportunity to get a deeper insight into the various vendors businesses and also other conferences, networking opportunities and software. Also it's great to have a casual chat when people let their hair down a bit after a heavy day ingesting information.
On the second night we attended an information session run by Elliot from Xero and Rod from Tanda which explained the complexities of payroll in businesses and how Tanda and Xero can help with these issues. Tanda looks to be a very solid solution for payroll which we are sure will assist some clients in the future. We also got a chance to chat with some of the team from Tanda over a couple of drinks that night. Great people!
On Friday we visited the Xero Offices in Hawthorn and were given a tour around by Elliot, and chatted about a variety of different business aspects, and the things that Xero are doing to keep pushing forward in the cloud computing field. I also had the chance to chat with Jenks from the development team about our Holiday Rental app – Book It Fast which helps to take the headache out of managing holiday rentals. We have implemented syncing invoices to Xero within the app and are currently looking for beta testers. If you would like to try it out then please let us know, or sign up from the website. The way that Jenks and the team support app developers is exceptionally well done, and was very happy to be asked my opinion of the Xero API and how my integration journey went. The people at Xero were very hospitable and the work space they have there looks fun and vibrant and a great place to be.
On the same day we also visited the My Prosperity office, and got a demo of their amazing app. We've already started mentioning it to some of our clients and are sure that this will be an integral part of some of our clients keeping track of their finances and records.
Overview
Overall it was fantastic to be in Melbourne for Account Tech Live 2019 and we are planning to make it a regular occurrence. The amount of information received and the fantastic contacts that we made was well worth the trip.